Trove (noun): a hidden collection of valuable objects; a discovery or find. From "treasure trove."
Trove sells rare food that is often difficult for people to locate and purchase. This comes with a specific set of challenges. The store typically receives bulk shipments and needs to repackage the food into smaller units, and they often don't know far in advance what they'll have in stock at any given time. Because their inventory is ever-changing, producing custom packaging for each of their offerings is impractical, as is centering the brand around food photography. This called for a type-heavy packaging system that was limited in scope while being extremely flexible.
A flexible packaging system
Trove needed a way to package their food items quickly and cheaply while still feeling elegant and considered. The solution was to package the items in one of four types of containers: a vial for small amounts of liquid, a jar for preserved food, butcher paper to wrap meat and seafood, and a collapsible carton for produce. These containers are varied enough to safely package any item Trove sells, and restricting the types of packages to these four minimizes production costs.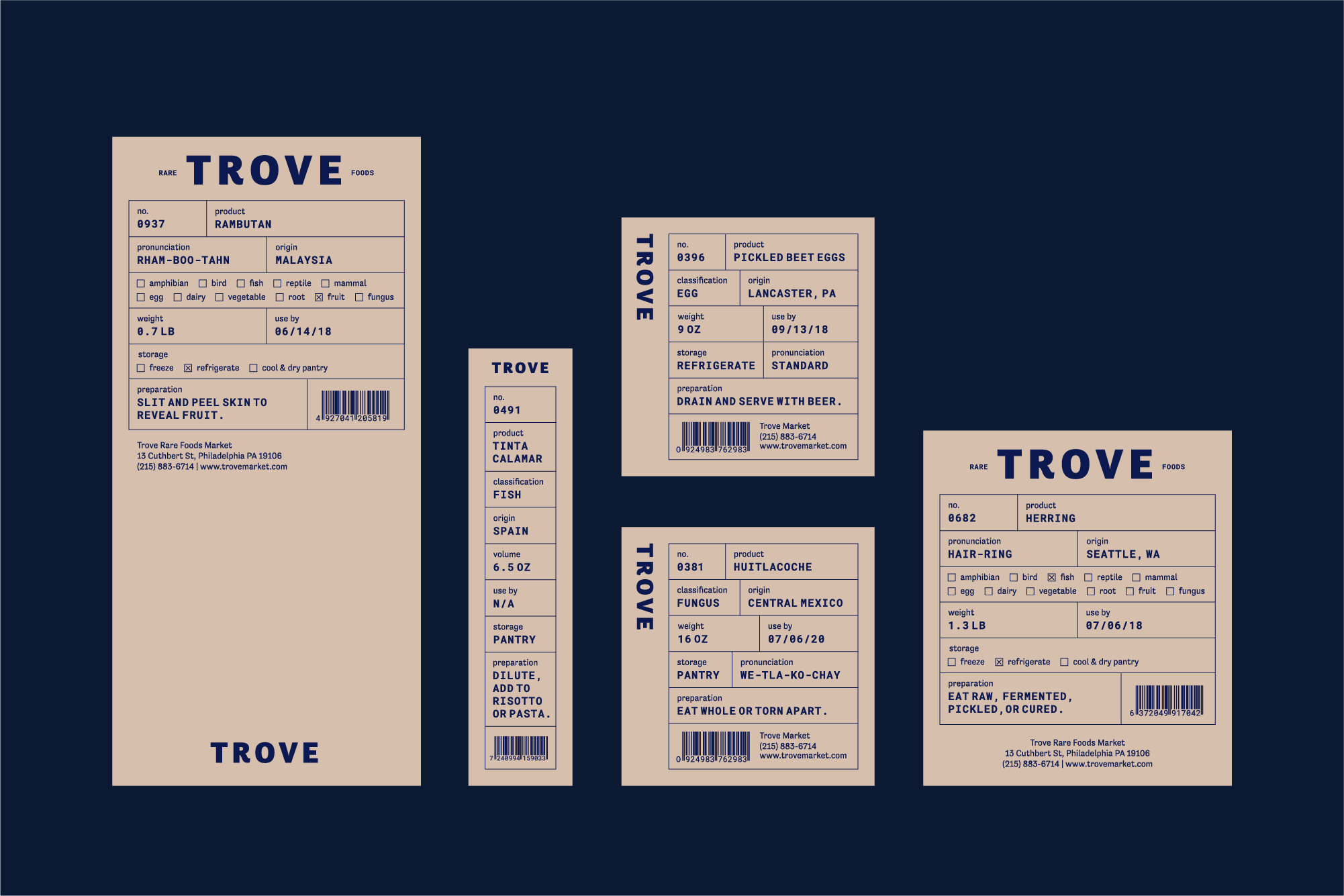 Everything on one sticker
The templatized label system, inspired by paleontology's catalog cards, has fields for information on the food—including name, place of origin, pronunciation, storage instructions, and preparation notes. The labels also include other necessary content such as weight, expiration date, the barcode, and store contact information. This is all printed on a single adhesive label that is easily and quickly applied during the packaging process.
The mobile catalog
Trove has an app that allows customers to view their entire catalog, filter items by classification and origin, see whether an item is currently in stock, and—when an item is not in stock—request to be notified when it becomes available again.